LIGHT AND SPACE THAT MYSTERIOUSLY REFLECTS AND EXPANDS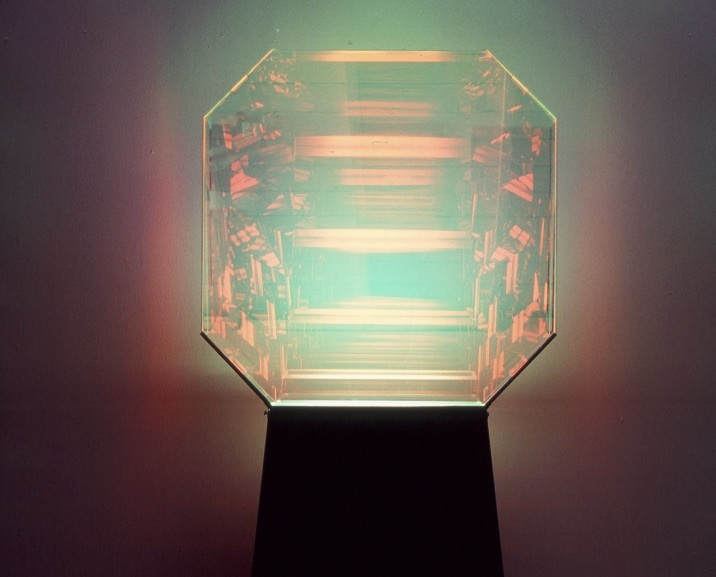 Thin Octagon, 1983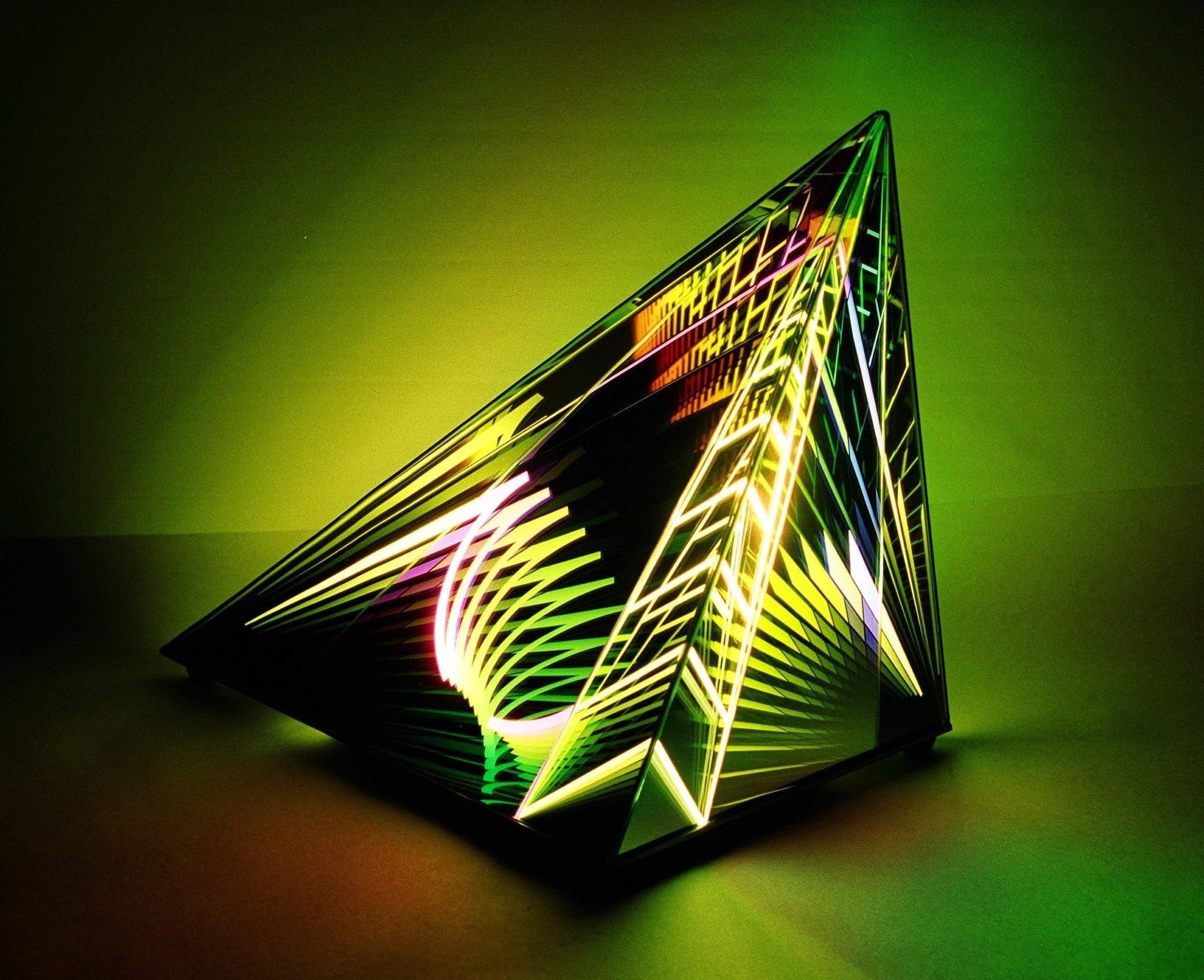 Slope Pyramid, 1988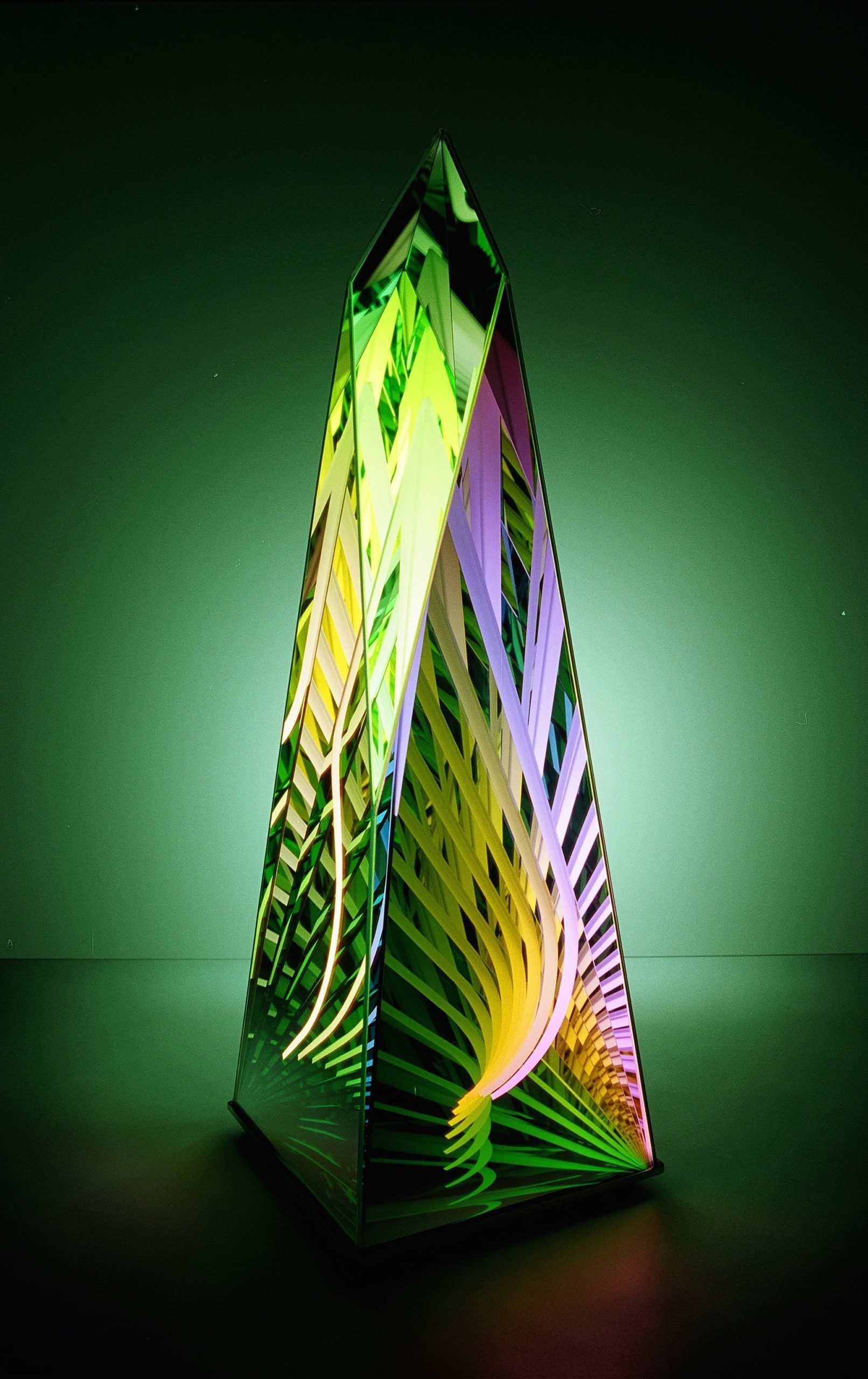 Dancing, 1992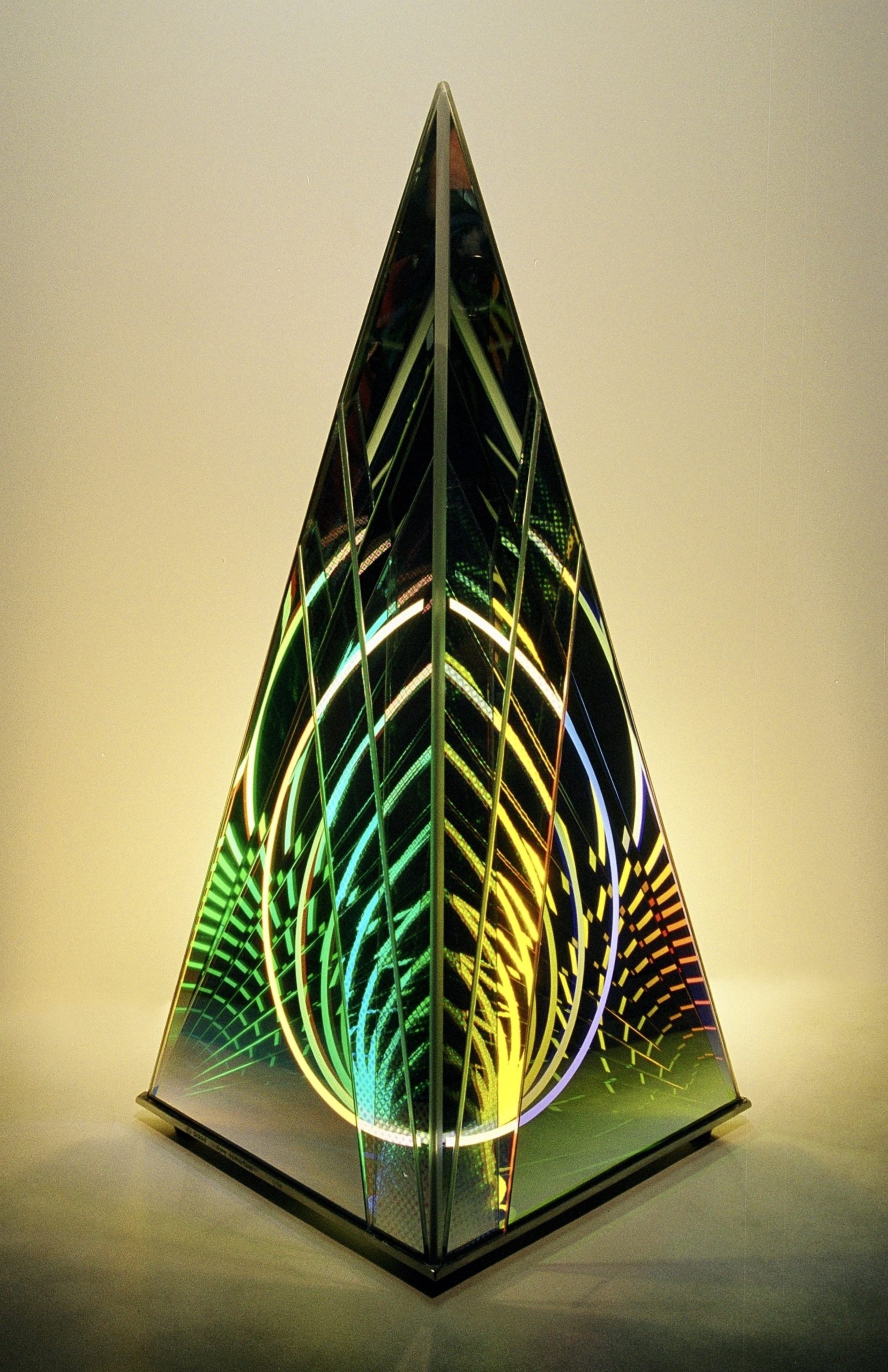 Shifting Portal, 1995
Summary of the ray howlett light sculpture
1958: upon entering the university of nebraska, I changed my major from engineering to art
15 years later I was using both engineering and art together.
---
1964: started my interest in making mysterious and well-developed art
The following years after art college, I started experimenting to become original, and for the fun of discovery. By 1973, now living in Los Angeles, I had invented a new artform of electric light, together with other forms of engineering. I have made more than 1000 light sculptures, a most complex sculptural artform.
Most of the major artworld in my career went "Minimal" and "Conceptual." I chose MAXIMUM and ESTHETICS.
---
All my art materials were invented (or developed for access) within my lifetime
Not much art is pure contemporary in new materials, and is also a purely unique artform; my sculpture is both.
1964, I started with mixed media materials: high-contrast photography, float-glass sheets, and acrylic paint. In 1973 my art materials included the newest kind of engineering: vacuum deposition of metallic coatings onto the newly perfected "float" window glass sheets; new engineering of "fluorescent" light; space-age "silicone" glue; and "stainless" steel sheet metal. In 1987 my list expanded to include aerospace optical-engineering "dichroic color," and aerospace chemicalengineering of "optical cleaners and adhesives."
In general, I have been an isolationist, trying to be original as a purest, not wanting influences, staying away from the artworld. My early artwork was made without knowledge of the California "Light and Space" art movement until the late 1970s, when I discovered these other artists with similar interests. I have not yet met any of them.
1975: My first museum group exhibition, "the rainbow show"
My artwork 'Rainbow Vortex,' exhibited at the de Young Museum,
San Francisco, CA.
This artwork is crude in comparison to my work a few years later.
San Francisco Examiner, 3/27/1975, "THE RAINBOW SHOW" review by Alfred Frankenstein:
"The light sculpture by Ray Howlett is the only artwork in this exhibition worthy to be displayed in a major art museum."
1983 Self-portrait magic, inside my Santa Monica studio
I look transparent, with me stepping into a time-exposure photo of my newest light sculpture.
I was an early pioneer in all the following historical art movements and Aspects, all combined at the same time in my artform of 1973.
Push And Pull Of Space
Contemporary Art
Light Sculpture
Constructionism Or Structuralism
Light And Space
OP Art
Viewer Interactive
Conceptual Art
Infinity Art
1978, Started my devotion to a new kind of color
I introduced "DICHROISM" color on glass to the art world, as a sculptural and architectural window material. This color is not a pigment or a dye, but a molecular-thin metallic-coating on glass that refracts white light. These coatings were originally used in science where the focus was on isolating a particular wavelength of light.
2004Salute to "Op Art"
Detail photograph inside my dichroic mirror box. You are seeing a photograph that displays the highest quality dichroic coating on glass, of which the largest size is only 24-inch sheets.
This is my favorite example of the "dichroic" color shifting effect.
Look for another choice from the 1990s that equally shows color shifting.
Show an infinity video, continuous running. If not video on this image, use any video showing good infinity.
My sculpture is not complete without viewer's participation.
Unless you have interacted with one of my sculptures you would not know my artform; you would not know my intentions of giving an interactive experience.
Video somewhat shows the mysterious qualities of dichroic color shifting, and image alignments changing, all because of viewer's movement while exploring the visual effects offered by the art.
This sculpture is different from all other art, which every viewer will discover as they start exploration of the art. Best viewed indoors in a low light room, and up close interaction.
If you have seen video, you would get a hint of the focus of my art: viewer's experience.
We drive cross country delivering exhibitions. If you are a curious curator or an appropriate collector we could stop (at your invitation) to show you when we drive through your state.
1987 Inside the home of Frederick Weisman, art collector
ALL ALONG
I wanted my art to do the talking for me. I still want people to just enjoy my art and forget the magic of how I accomplish these results. Throughout this website I have decided to give away a few of my secrets to help encourage the reader to signup to our exhibition announcement list and someday see an exhibition nearby.
My past has delivered to me not much interest to hustle sales, nor to develop an extensive academic biography, nor to socialize. Selling through galleries became problematic. Photographs and Videos do not work well as presentations. Seeing the actual art is the only way to know my art.
All I desire is to make my artform as a purest, and then let people enjoy my work at exhibitions.
Going public. What a ride! Driving through 45 states, while on the road doing my exhibitions from 1999 to 2010, 150 curators had the curiosity to have me stop and show them. This resulted in 25 solo exhibitions, and it got me started with 25 (small) museum collections, before I retired in 2010.
My exhibitions produce a unique attitude with attendees: During the opening event, people spend most their time facing and exploring my art, not the usual activity of facing each other, socializing
Sculpture was made in 2007. Photo taken in 2021 with the
glamorous Aureta Thomollari looking into my sculpture.
Year 2022, At age 82, started booking my 2nd solo exhibition series
I am now working with a team, and working larger in a new location in the California Pine-covered mountains, in a new studio.
In addition to pedestal-size works, I will have a portable 30-foot "INFINITY WALK-THROUGH." Also available will be my "ART CAR" with an overhead light show. Outdoors, I will install a temporary "OPTICAL ANNUAL SUNDIAL" that tracks the four seasons with reflected sunbeams.
BUSINESS POLICY
None of the art you see in this website is for sale. Most are for exhibitions.
We are independent from art galleries.
You may commission me.
I will make commissions only for half the year. The rest of my time goes to making exhibition art.
Exhibition and magazine title choices:
Ray Howlett, an originator of "LIGHT AND SPACE" in sculpture, since 1973.
Ray Howlett Light Sculpture, most complex sculptural artform in history.
Ray Howlett, the magic of INTERACTIVE LIGHT SCULPTURE, since 1973.
Ray Howlett, the father of INFINITY LIGHT SCULPTURE, starting in 1973.
Ray Howlett, an originator of DICHROIC COLOR ON GLASS IN SCULPTURE, since 1978.
Ray Howlett, pure contemporary art in new materials, since 1973.
Ray Howlett invented a purely unique artform, starting in 1973.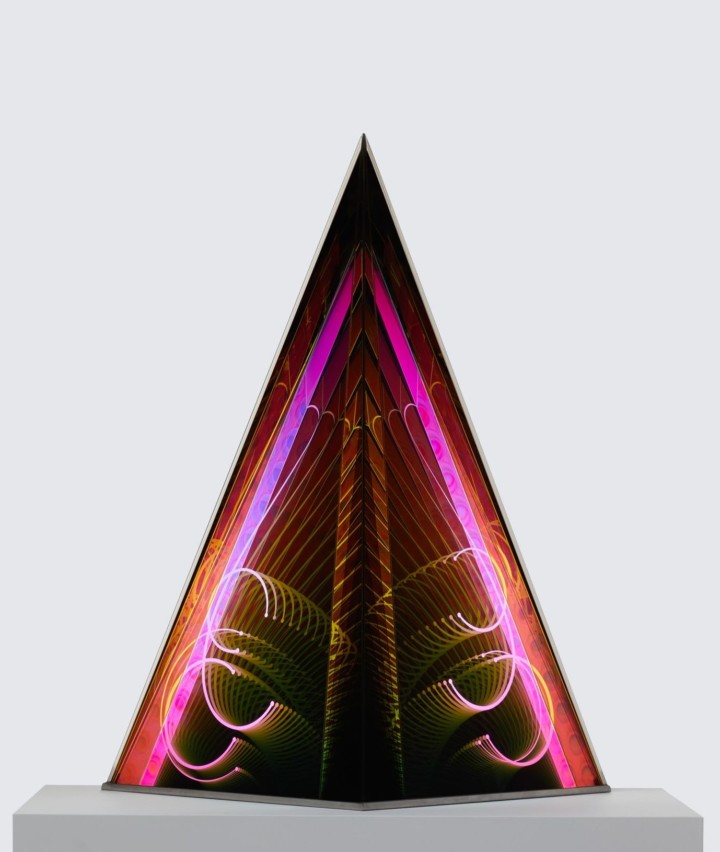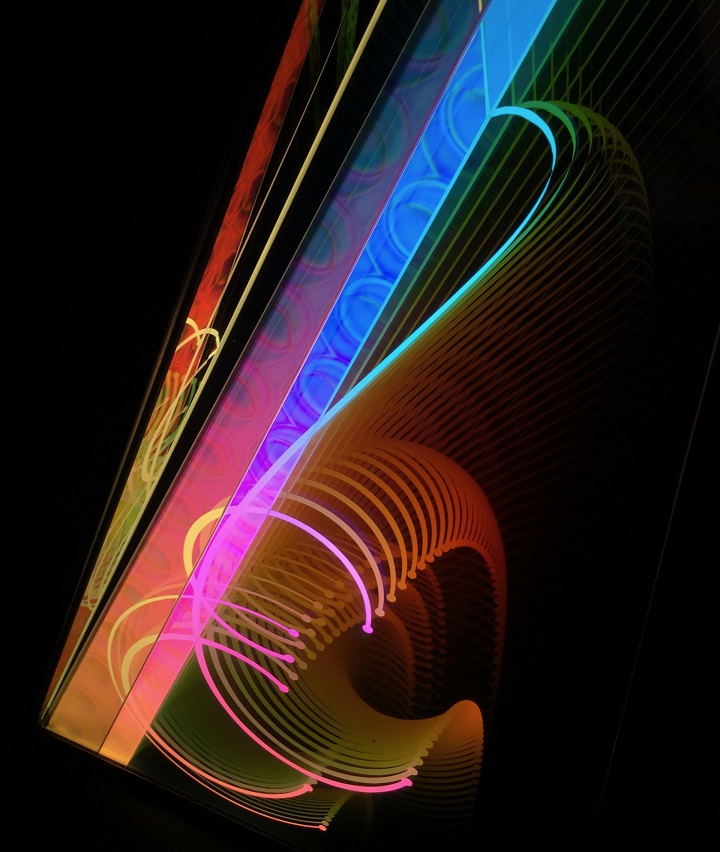 COMPOSITIONS CHANGE BY VIEWER'S INTERACTION